Ethos and Values
'Positive Thinkers, LiFELong Learners'
Braunstone Frith Primary Academy is committed to all children and all adults being 'Positive Thinkers and LiFELong Learners'.  We are a 'No Outsiders' school and value everyone.  We believe the school is at the heart of the community and is built on positive relationships with all stakeholders. Through this we seek to work with all children and their families.
At Braunstone Frith, we believe that there are no limits to what our children can achieve. Our core values which are linked to our positive learning behaviour strategy are 'REACH IT'. Our children will become pupils who can be;
Resilient      Engaged actively      Accountable
Challenged    Have a go      Independent      Teamwork
We are preparing our children for a life in the 21st Century. For the children to be successful in their learning and in their life, we truly believe that the ability for them to communicate is key. We aim for the children to 'learn TO talk' and give them the confidence, resilience and social skills to communicate to anyone they may meet. In addition, our children also 'learn THROUGH talk' and move from using talk to explore curriculum content to developing their understanding to be able to present their learning to a range of audiences.  We aim to develop children as confident, respectful and purposeful speakers.
To make sure all subjects are built around the needs of our children we have created our 7 key principles.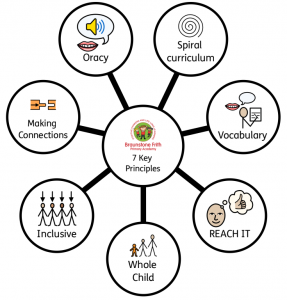 We offer our children a curriculum that reflects life in the 21st Century. We aim for our spiral curriculum to build a sense of social responsibility both in the local community and the wider world. We ensure that our curriculum exposes children to the awe and wonder of the world and the importance of understanding British Values in today's society. As a No Outsiders School, we are a caring community where values are built on mutual trust and respect for all regardless of race, religion, ethnicity, sexual orientation, gender identity, disability, age or gender.
Our staff have high expectations of what all our children can achieve. We encourage creativity and embedded learning through a spiral curriculum. We work to ensure every child has a voice. We model to our children honesty, good manners and respect. We support, inspire and encourage a spirit of self-belief.