We are proud to be a 'No Outsiders' School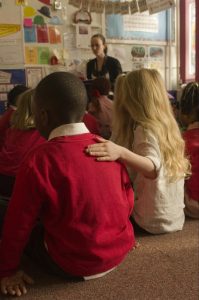 No Outsiders is an integral part of the curriculum. By being a No Outsiders school, this means that we celebrate diversity and are committed to the principles of inclusion and equality.  It is a primary aim of our school that every member of the school community feels valued and respected.  We are a caring community where values are built on mutual trust and respect for all regardless of race, religion, ethnicity, sexual orientation, gender identity, disability, age or gender.  This fulfils our duty to promote diversity and prepare your children for life in modern Britain.  No Outsiders is British Law and supports the Equality Act to ensure that everybody is treated equally and without prejudice.  There are several other Leicester City and County schools taking part in No Outsiders, as well as other schools around the UK.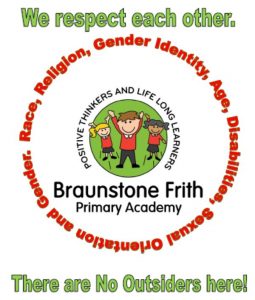 At Braunstone Frith Primary Academy, we follow guidance from the Government on how to teach British Values.  No Outsiders is part of our Personal, Social, Health and Emotional (PSHE) curriculum and enhances our teaching on relationships as part of our PSHE curriculum. It is taught through a series of picture books addressing the different areas of the Equality Act.  This part of the curriculum links to British Values and Social, Moral, Spiritual and Cultural learning (SMSC).  As this is part of the school curriculum, every child takes part.  No Outsiders supports outstanding teaching and learning.  It challenges stereotypes and the use of derogatory language in lessons and around school.  No Outsiders strategies reflect and value the diversity of pupils' experiences and provide pupils with a comprehensive understanding of people and communities beyond their immediate experience.