CEOP Child Exploitation and Online Protection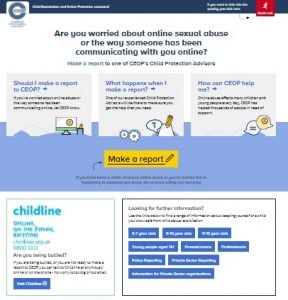 If you have online safety concerns please see the useful web links below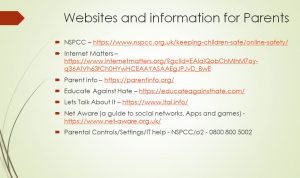 At Braunstone Frith Primary Academy we understand that children spend a lot of time online – it is a great way for them to socialise, learn and have lots of fun. But there are risks involved with going online, such as being bullied or seeing content that is inappropriate.
With the help of the resources and information on this website, we will try and provide you with everything you need to know about keeping yourself and your children safe online.
Whether you are someone who doesn't use computers that much or even if you are a computer wizard, the most important thing to remember is to talk to your child about staying safe online.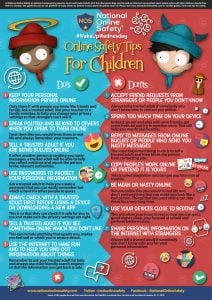 Below, we have included what we think are the some of the key issues facing parents and children today. If you would like to improve your knowledge on how to keep you child safe online you can register for our free parent training courses from National Online Safety – They are online videos for you to watch at your convenience.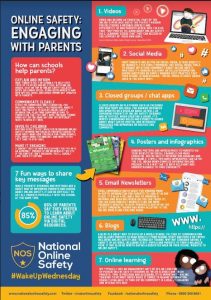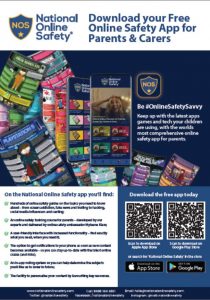 Social Media: Being 'Share Aware'
In real life we always encourage children to share, but online it's different. These days children can use social networks to:
Share photos
Message each other
Meet new people and talk to strangers
Make video and voice calls
You have probably heard of Facebook, Twitter, YouTube and Instagram, some of the most popular social networks, but whatever is popular changes all the time and it can be hard to keep up.
That is why we recommend using a tool called Net Aware, a tool developed by the NSPCC and O2. This website will help you explore the different social media sites out there by reading what other parents and children think about them. For example here is what people say about Facebook.
TikTok is fast becoming popular as a social media platform and this Parental Guide gives useful information whilst instructions on setting Parental Controls can be found here. More information can be found at https://www.tiktok.com/safety/en/guardians-guide/
Cyber-bullying
Bullying is behaviour that hurts other people, such as but not limited to – name calling, hitting, pushing, spreading rumours and threatening people.
Bullying is usually repeated over a long time. It can hurt children physically and emotionally. It can happen anywhere, at school or at home for example.
When it happens online, on social networks, games or through mobile phones, it is usually called cyber-bullying. Often, a child may feel trapped when they are being cyberbullied because it can happen anywhere or any time.
Click here for more information about Bullying and cyber-bullying from the NSPCC
Click here to learn about the signs, symptoms and effects of bullying and cyberbullying
Building Confidence After Online Bullying (Childline)
Parental Controls / Inappropriate Content
It is possible and often quite easy for children to come across things online which are in appropriate for their age. You can use filters to block this content and you can prepare your child by teaching them how to avoid this content.
This could include:
Pornographic content
Swearing
Gambling
Un-moderated spaces (where there is no supervision).
Depictions of violence or cruelty
It can be difficult to monitor what your child is doing these days. Children can access the internet on many different devices, and they can often find unsuitable content by accident.
Below we have listed online guides on setting up parental controls for your home and devices.
Internetmatters.org show you where you can set parental controls and what you can protect
Choose what you want to protect and get a guide on how to do it from parentalcontrols-on.org
CBBC/ownit has video's about getting your first phone and how to stay safe online. https://www.bbc.com/ownit
More information on parental controls from Childnet
The UK Safer Internet Centre:
eSafety for parents – Inappropriate Content (Office of the Children's eSafety Commissioner)
Online Reputations
These days, internet companies and websites keep a record of everything we do online. This includes the photos we upload, the comments you make, the things you search for and the things you buy. All of this information or data can become part of your online reputation
It is important to know how to manage your online reputation and understand the consequences of a negative or bad online reputation.
A child's online reputation can begin very early. Parents often post baby pictures online and children themselves can share information from a young age. Once any information is uploaded, it can be difficult or impossible to delete and affect your child later in life.
Click here for information on online reputations from Internetmatters.org, including how reputations are formed, what effects they can have and how to find out what reputation your child has.
Trusting Myself – Trusting My Selfie (Parent Zone)
Links and Resources
NSPCC: Share Aware – Help your child stay safe on social networks
Net Aware – Find out what parents and children think of the most popular social networks
Internetmatters.org – find important and detailed information on how to keep safe online
Parentalcontrols-on.org – protect your children by setting up parental controls
Childnet – Find out more about key issues
ThinkUKnow – Thinkuknow is an education programme from the National Crime Agency's CEOP Command.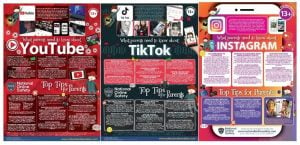 The National Online Safety has made a collection of posters providing advice on navigating modern apps and services (see above for examples). Click here to download all the posters currently available.