REACH IT – Our positive learning behaviour strategy
Information for parents
This year, we have revamped the reward and behaviour systems in school. This is following our Ofsted inspection in February which identified the need for an improvement in childrens' learning behaviours and general classroom behaviour.
Children will be taught to have quality learning behaviours through the acronym 'REACH IT'. This stands for:
Resilient Engaged actively Accountable Challenged Have a go
Independent Teamwork
Behaviour:
In each classroom and learning area, there will a rule board displayed.
If a rule is broken, the child's name is written under the rule as a warning.
If the rule is broken again, the child's name will be written again and this means that they will miss 5 minutes of their playtime or lunchtime.
If the rule is broken again, their name is written again and they will miss 10 minutes of their playtime or lunchtime.
If the rule is broken again, the child will miss half of their lunchtime. This will be a red card.
If a child is regularly getting their name written on the rule board, a discussion will be had between their teacher and phase leader about the child entering the report system.
The report system will work in the same way that it has previously.
Rewards:
Children will be rewarded for working towards one of the words in REACH IT, e.g. if they have shown really good teamwork or have been resilient in their work.
Children will collect 'REACH IT' points.
Children will receive a reward after every 100 points. These will be given out in an assembly on a Monday.
When they reach 100 points, they will start again from zero.
Children will no longer collect badges on their lanyards.
In Friday assemblies, REACH IT certificates have replaced ABAs and the Golden Book.
Parents are still welcome at Friday assemblies
REACH IT POINT CHARTS AND LANYARDS
When your child starts school they are put into a House with a colour. They are given a lanyard in that colour. Children will wear their lanyards to all Friday REACH IT assemblies.
Every class has a "REACH IT" points chart.
Every time a child gets 100 points on the REACH IT points chart, they receive a sticker and a prize.
Every class has a RULE BOARD.
GOLDEN TIME
Golden Time is a reward for those children who respect our school rules.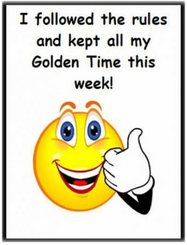 Golden Time takes place during the last half hour on a Friday afternoon and gives each class an opportunity to enjoy a wide range of activities together. Children can earn extra golden time by reading and completing their reading racetracks.
Children who have not completed their homework will be expected to complete it during golden time.
If you have any questions regarding any of this information, please do not hesitate to ask your child's class teacher.
Thank you for your continuing support
Mrs N Grant